LARGEST FRUITS AND VEGETABLES FROM OUR WORLD.
World's Largest Apples
Japan's Hokuto apples, a hybrid of the Fuji and Mutsu varieties, are known for their large average size so it's not surprising that a representative of this variety dropped into the Guinness World Records for being the
world's heaviest apple

. Discovered by apple farmer Chisato Iwasaki of Hirosaki City, Japan, on October 24th of 2005, the choice Hokuto apple above tipped the scales at 1,849 grams (about 4 lbs 1 oz).
The Homeland Of Giant Fruits And Vegetables- Alaska
Thanks to be lit longer by Sun, every year Alaska area products many fruit and vegetables that have huge size like cabbage 63 kilogram and cucumber 30 kilogram.According to Amusing Planet, the state of Alaska lies on near North Pole, so the time Sun can light come to 19 hours per day in summer and the top of growing season. That the sunlight keeps be longer lets the plant develop continually. Although the cultivation season in here is much shorter than other states of American, the farmers have grown some kinds of the most huge vegetables around the world.
Matanuska Valley Giant Vegetables – We grown 'em world record size!
The current world record holder for heaviest cabbage is from Wasilla, Alaska. We grow 'em big in the Valley! In September 2009, that
cabbage

weighed in at 127 pounds! That's a lot of coleslaw!
Look at the size of the lettuce from Alaska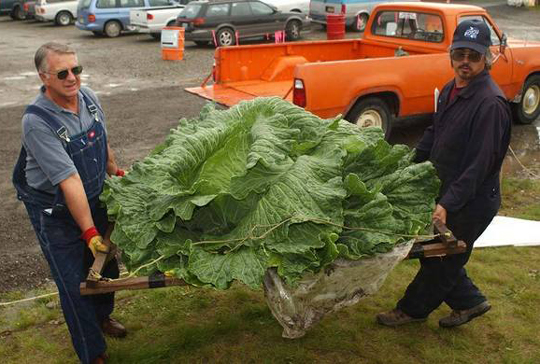 Here is a giant Zuchini ( a type of cucumber)
HERE ARE PICTURES OF SOME OF THE LARGEST VEGETABLES FROM OTHER PARTS OF THE WORLD.

This high breeding tomato plants grown to tree sizes in Spain
Winners of UK's Largest Vegetable Competition
King Oranges From Japan
Biggest Watermelon
Highest yielding date trees from Israel