Statues are built as celebrations of gods, historical events
and important personalities. The tallest try reach the sky
and make you take notice of what they are commemorating.
They are also works of art, and can take years to build.
Here are some of the grandest ones ever built.
The Statue of Liberty is the shortest statue on this list at just
151 feet tall; however she gains height because the statue
rests on a 154 foot pedestal. The statue depicts the Roman
goddess of freedom Libertas and was a gift to the United
States from France in 1886.
Ten Directions Pu Xian Buddha, China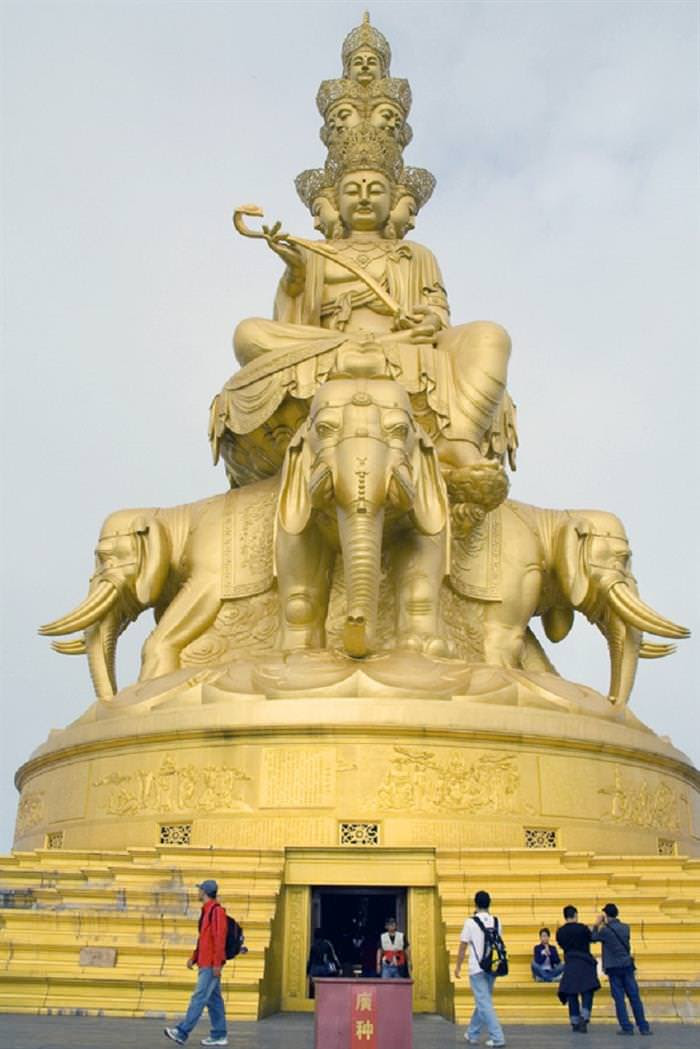 This dramatic gold colored 157 foot statue of the Buddha
Samantabhadra can be found on Sichuan province's Mount Emei.
Sodoshima Dai-Kannon, Japan
This impressive landmark in the Kagawa Prefecture houses several
prayer halls, an elevator, and an observation deck. This 164 foot
\masterpiece honors the Buddhist goddess of mercy, Kannon.
Peter the Great Statue, Russia
The fact that the monument to Peter the Great is located in the
Russian capital of Moscow is ironic, considering the commemorated
once moved the capital to St. Petersburg. This imposing 315 tall statue
is made of copper, bronze and stainless steel.
Buddha in Aluthgama, Sri Lanka
The spectacular statue in coastal Aluthgama, Sri Lanka is considered
the tallest sitting Buddha statue in the world at 160 feet. Built in
2007 it has become one of the country's most important tourist destinations.
Guan Yin of the South Sea of Sanya, China
This breathtaking statue is the fourth tallest in the world at 354 feet
tall, with 3 different faces and represents the Guanyin. The statue is
located in Nanshan Temple of Sanya.
Virgin of Peace, Venezuela
This concrete statue stands 153 feet tall and is the tallest statue
of the Virgin Mary. It is also the tallest sculpture in all of the Americas.
Despite its grandeur, it does not receive many visitors.
Thailand's tallest statue is not only 300 feet tall but also 210 feet wide,
and is the ninth tallest statue in the world. The cement statue is
painted gold to represent the Gautama Buddha, the most
important figure in Buddhism.
Mother of the Motherland, Ukraine
The largest statue in Eastern Europe is Kiev's 203 foot Mother
of Motherland. This stainless steel structure is part of the
Museum of Great Patriotic War and weighs 560 tons.


This 394 foot bronze statue has a 32 foot pedestal and represents
the Amitabha Buddha. The structure is also fitted with an
elevator, allowing visitors to enjoy a view from its observation platform.
Leshan Giant Buddha, China
Facing Mount Emei at the intersection of the Minjiang, Dadu and
Qingyi rivers is the Leshan Giant Buddha. This historic statue
dating back to the 7th century became a UNESCO World Heritage
At 381 feet tall the Laykyun Setkyar is the world's second tallest
statue, and represents the Gautama Buddha.
Spring Temple Buddha, China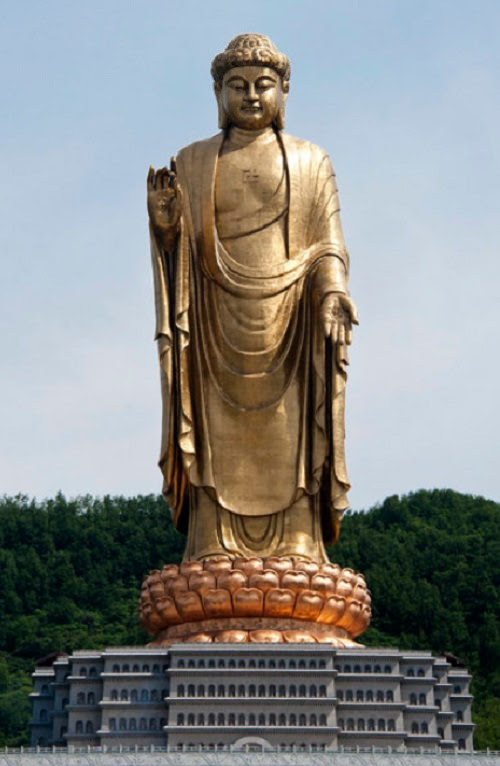 Boasting the title of the tallest statue on earth is the Spring Temple
Buddha, which can be visited in Zhoacun, Henan. If you
include the 82 foot pedestal, this Buddha stands at 502
feet. The statue represents Vairocana Buddha and overlooks